27 Oct 2022
Meet the Independent Hotel Show Awards winners: Outstanding Contribution Oliver Brown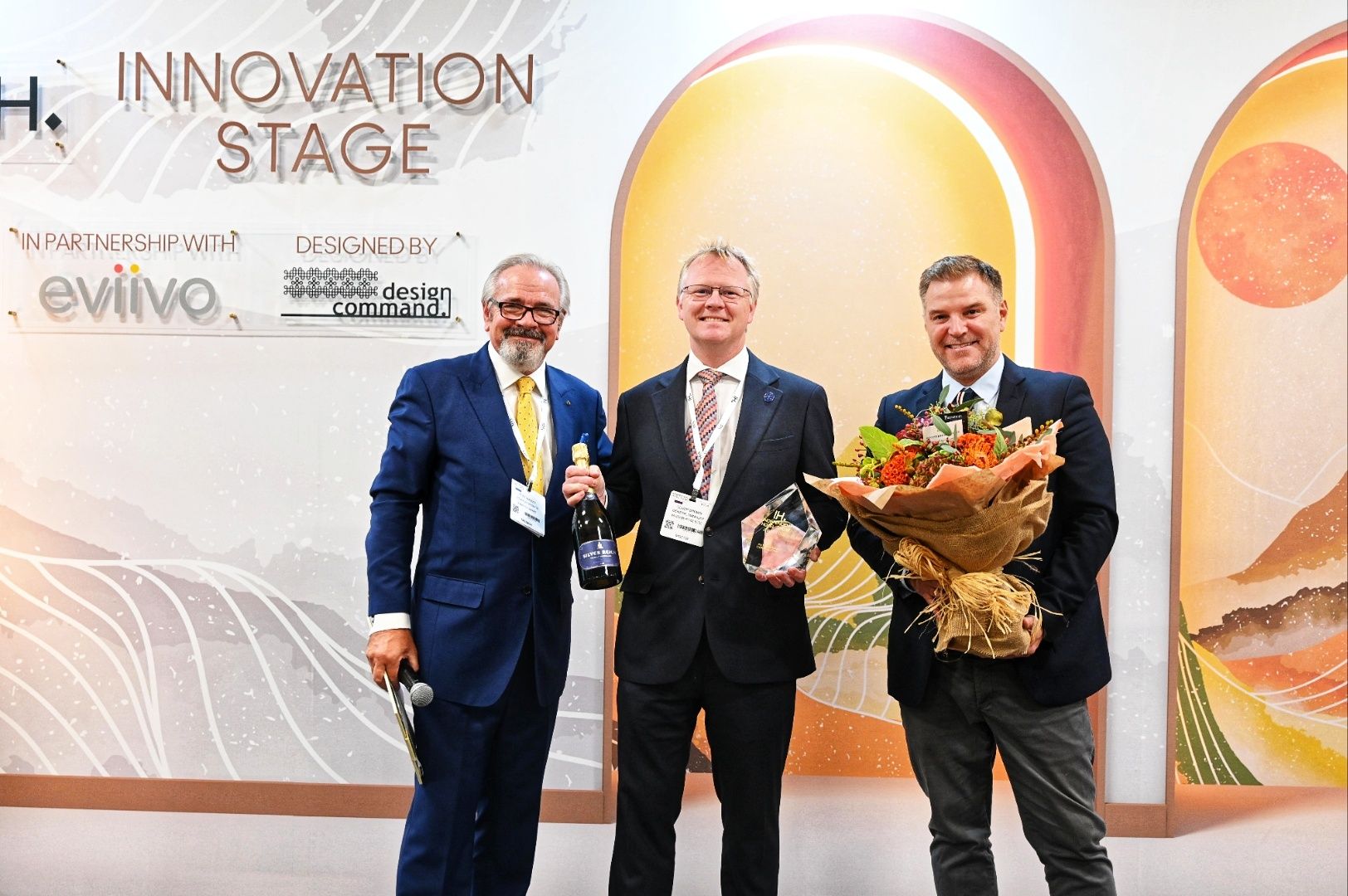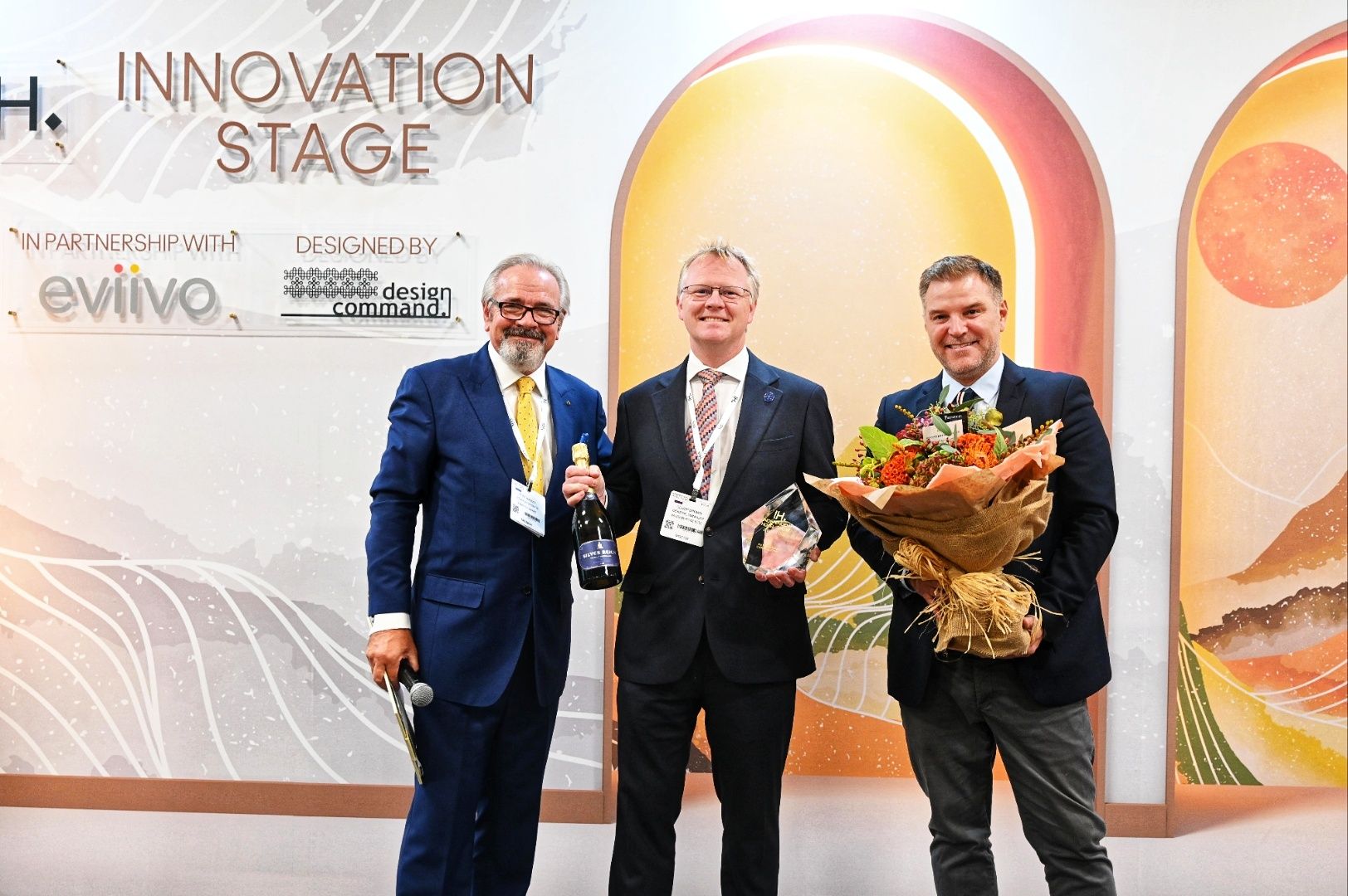 Image: Independent Hotel Show ambassador Peter Hancock (left), Oliver Brown (centre) and Independent Hotel Show Event Manager Glenn Wallace (right).
Oliver Brown FIH MI, General Manager at Wivenhoe House Hotel (home to The Edge Hotel School), was recognised at the 10th annual Independent Hotel Show Awards, which took place at the show at Olympia London on 4-5 October 2022, for his outstanding contribution to the independent hotel sector.
The Outstanding Contribution Award is not handed out each year, instead the judging panel for the Independent Hotelier award are able to nominate an outstanding independent hotelier at their discretion.
Oliver Brown, who is a St Julian Scholar, became a Master Innholder in May 2022 following an unequivocal demonstration of his commitment to the role.
The first to pledge his commitment to industry-wide initiatives, he is an active Chair of the East Anglia chapter of Hospitality Action, as well as a committee member of the UK Hospitality's Eastern region. He was quick to advocate the Invisible Chips Campaign and raised over £1,800 through asking customers to 'buy a bowl of nothing' to raise money to help those affected by the pandemic. He also regularly takes part in Hospitality Action's industry initiatives, including Back to the Floor and cycled 50 miles with four members of staff to visit suppliers in the Back to Business Tour.
Within Wivenhoe House Hotel, Oliver hosts the sustainability committee Plastic Patrol for Sustainability and the Environment, meeting every month to discuss and implement new ideas to help achieve the hotel's goals of eliminating single use plastics and reducing the carbon footprint.
Peter Hancock, Independent Hotel Show ambassador and awards judge, commented on the reasoning behind Oliver's recognition: "Oliver Brown makes a unique contribution to our industry through his exceptional work running Wivenhoe House Hotel, home to the Edge Hotel School on the Essex University campus. He is a force for good at a time when recruiting the best and most able people into our trade has never been more urgently required. The splendid audience reaction, when he was presented with his award at the Independent Hotel Show, proved just how much he is appreciated by us all."
The Independent Hotel Show team sat down with Oliver to learn more about his career in hospitality and what it takes to build great teams.
Hi Oliver, congratulations! How did it feel to win the Outstanding Contribution Award at Independent Hotel Show London this year?
I was (and still am) stunned, and rather embarrassed really, given that so many of my peers are deserving of such recognition. But, I am very proud to have been recognised in this way, it was so unexpected.
How did you first enter the industry, or when did you first realise this would be a career for you?
My father was a hotelier, and so every mealtime growing up, dinners and Sunday lunches was an education. My first jobs were in pubs and hotels and when I came to choosing university courses, there was really only one course to apply for.
What does it mean to you to manage an independent hotel?
Exactly that, it is independent, allow me to be creative and flexible in the ways to achieve great customer satisfaction, quality, staff (and student) satisfaction and of course the financial performance.
How do you approaching recruitment and building great teams?
Be honest with candidates, and write a job description that is a true reflection of the role and the person. The team is the greatest asset and requires the most management time. We give our team the time they need, and the freedom and empowerment they are looking for to run and work in their areas.
What advice would you give someone with ambitions to be a general manager?
You are more ready than you think, go for it! I was 27 when I took my first GM position and quickly realised I knew more than I thought. Remember though, if there is something you need help with, or do not know, in this great industry, there is always someone you can ask #ask4help.