10 Oct 2023
Hospitality unites for annual Walk for Wellbeing event across the UK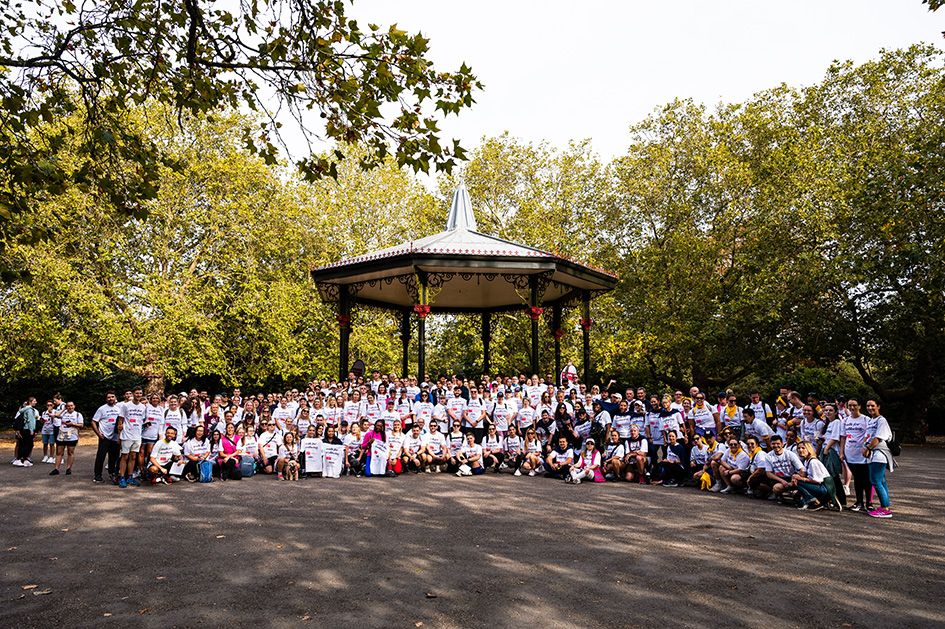 The hospitality industry stepped out on Sunday 8 October for its annual Walk for Wellbeing hosted walks across the UK. As it stands today, World Mental Health Day, the event has raised more than £85,000 for the industry's leading support charity, Hospitality Action, with more rolling in by the hour!
On an unseasonably warm day, teams and individuals from some of the country's top hospitality businesses walked 20km routes in six cities across the UK to highlight awareness of mental health in the industry and raise funds for Hospitality Action. Z Hotels, Dakota Hotels, and Placed App are just some of the businesses who signed up teams to walk the hosted events.
In London hundreds of walkers undertook eight laps of Battersea Park in an event hosted by mum, the hospitality talent partner whose founder and director, Craig Prentice, started Walk for Wellbeing four years ago after a difficult period of his own.
The Bath Hoteliers Association partnered with The Bristol Hoteliers Association to devise a walk between two of the regions' flagship hotels, The Royal Crescent Hotel, Bath and Double Tree by Hilton, Bristol City Centre.
In the Midlands, the 20km route started and ended at Albert's Schloss in central Birmingham, taking in green spaces such as the scenic Edgbaston Reservoir. Hosted by Tonic Talent, the walk also covered parts of Digbeth, the city's creative quarter and some of Birmingham's historic canal network.
Up in Manchester the 20km route hosted by the Manchester Hoteliers Association passed two water parks, the River Mersey and sections of the Trans Pennine trail.
Glasgow was not quite as lucky with the weather but many still braved the elements to walk 20km through Strathclyde Country Park with Davidson Asset Management hosting.
In total almost 900 people registered for this year's hosted walks and Walk it Your Way walks which are sponsored by caterer.com and Peoplebank. The event has already raised over £85,000 and with funds still rolling in, it is expected Walk for Wellbeing 2023 will be the most successful in its four-year history.
Craig Prentice founder of UK hospitality talent partner, mum, and Walk for Wellbeing said: "The atmosphere at the walks is always incredible. They are a real coming together of a community and it's a truly humbling feeling knowing not just how much money we are raising along the way, but how that money is providing vital help to those in our industry."
With mental health issues, the cost-of-living crisis and fear of homelessness at an all-time high, since the start of 2020 Hospitality Action has helped more people than ever, answering 26,809 helpline calls and delivering 6,753 face-to-face and over-the-phone counselling sessions. More than half of those contacting the charity for support directly reference mental health issues such as extreme stress, anxiety and feelings of hopelessness, with the overwhelming majority also struggling with household debts, with many facing the threat of court action or eviction.
Mark Lewis, CEO of Hospitality Action said, "Walk for Wellbeing has grown into one of our most important and successful fundraisers but equally crucial is what a positive experience it is for every single participant. There may be some sore feet at the end but there are many more warm hearts!"
The initiative is open for all to continue to 'Walk it Your Way' and raise more crucial funds until Sunday 15 October. For more information, please visit www.walkforwellbeing.org
Imagery for each city be found via this link here - https://custardcommunication.sharepoint.com/:f:/g/EuwQVh84lf1IjMkbTjyFSHYBD-pzj22vSDwKPfJS6p_euw?e=rdVwlS