18 Jul 2022
CODE Hospitality on 2022's Most Influential Women in Hospitality list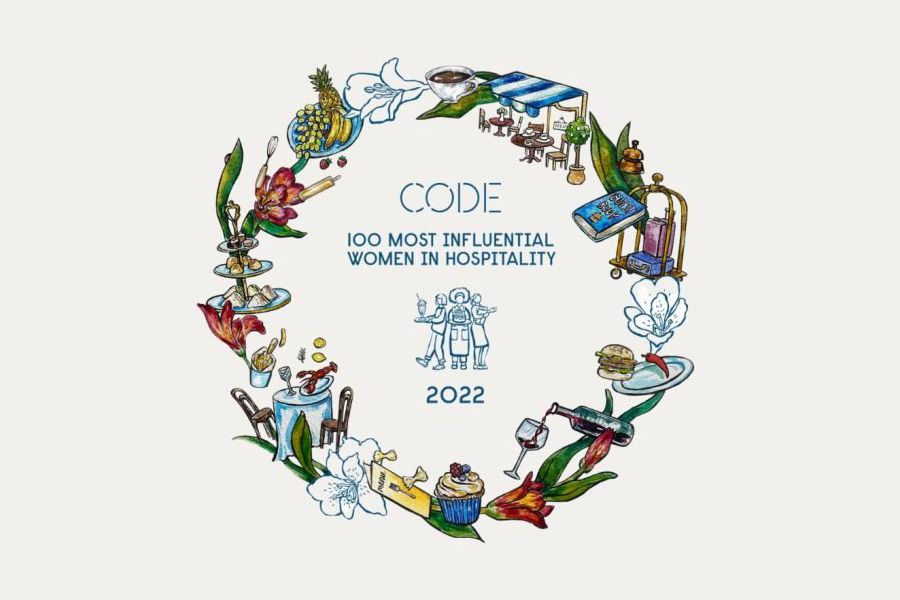 On 13 July, CODE Hospitality unveiled its fifth edition of the 100 Most Influential Women in Hospitality list, narrowing down over 600 public nominations to the final 100. The list also singles out key women in the industry across a number of categories including drink, sustainability, entrepreneurs, mentor and community, which is a new addition for 2022.
They were as follows:
Most Influential Woman 2022 - Kate Nicholls OBE, Chief Executive, UKHospitality
Most Influential Woman in Drink 2022 - Monica Berg, Founder, Tayēr + Elementary
Most Influential Entrepreneur 2022 - Lorraine Copes, Founder, Be Inclusive Hospitality
Most Influential in Sustainability 2022 - Chantelle Nicholson, Chef-owner, Apricity
Most Influential Mentor 2022 - Ravneet Gill Founder, Countertalk
Most Influential in Community 2022 - Olia Hercules, Chef and food writer
Mike Daw, Partnerships Manager at CODE Hospitality, tells the Independent Hotel Show: "I feel that CODE recognised that while there were a growing community of influential female leaders in the industry, there wasn't one place/publication that was bringing those individuals together to champion them. We are passionate about sharing their incredible stories as it will hopefully inspire more women to join (and stay in) this amazing industry – we believe each of the women featured have done this within their specific fields and the list recognises their careers and in particular their work over the past 12 months.

"There are a very few women that manage to make the list repeatedly, though industry stalwarts like Angela Hartnett OBE, Clare Smyth OBE and Ruth Rogers CBE are familiar faces on the list. For those women who have spent many years as figureheads of the hospitality landscape we have a 'Hall of Fame', in celebration of their lasting impact on the industry."
The Hall of Fame women in hospitality are:
Andi Oliver, Co-founder, Wadadli Kitchen & presenter, Great British Menu
Clare Smyth MBE, Chef patron, CORE by Clare Smyth
Hélène Darroze, Chef proprietor, Hélène Darroze at The Connaught
Margot Henderson, Chef-owner, Rochelle Canteen
Maureen Mills, Founder, Network PR
Rebecca Mascarenhas, Co-owner, Elystan Street, Kitchen W8, Church Road & Home SW15
Romy Gill MBE, Chef & broadcaster
Sally Clarke, Chef-owner, Clarke's
What has been the feedback from the industry?
The response to the list is one of the highlights of our year at CODE. It's an honour to see the pride the entrants have in being included in such a uniquely influential line up. Whether it's a re-share or a TikTok reaction video, the growth of social media has allowed entrants to share their accolade far and wide, shining an even bigger spotlight on this collection of brilliant female talent.
Tell us about the new category awards added for 2022
After the past two years of challenges we felt it important to highlight some specific individuals in certain fields. It became clear as all the nominations came through (we received more than 600) certain individuals were emerging in a few distinct fields and as such, we created the awards. This then gave a little more space for the recipients to tell their story in a separate in-depth interview with each award-winner.
What are your plans for the future of the list?
We will continue to champion women in the industry and there will absolutely be another list published in 2023 and beyond. In the meantime though we are already cracking on with work to publish a list highlighting important LGBTQIA+ voices in the industry, and our 'Happiness in Hospitality' survey and report for the end of the year/early next.
Emma Causer, Head of Strategic Partnerships UK&I at RICS, commented on her inclusion in the list, saying: "Every so often you get to do something really special. Five years ago Ann Elliott, Holly Addison and I sat down and decided we wanted to make a difference to women in hospitality. Plan B Mentoring was born and our grand passion became a reality. We get to support talented women on their journey to leadership. Today we got voted as part of a fantastic cohort of women, and I'm a little bit humbled to be part of this fantastic line up. Thank you, but we only manage it because of our mentees and mentors, it's their journey, and we are privileged to be part of it."
View the full list on the CODE Hospitality website.
To keep up to date with the latest industry news, subscribe to the Independent Hotel Show newsletter.