British Heart Foundation
Stand: 2029
Recyclable
Sustainable
Other Retailer
Online Retailer
Equipment, goods
Gallery Level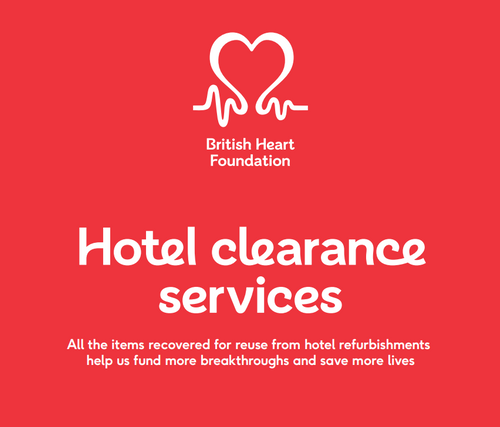 British Heart Foundation - Hotel furniture clearance service
We provide a fast, professional and environmentally friendly solution for your unwanted hotel furniture. Please get in contact to discuss your requirements.
A sustainable and cost saving solution for your unwanted furniture items. We collect unwanted items as part of your refurbishment programme for free - avoiding landfill and saving on your removal and waste disposal costs.
We are acutely aware of the time pressures involved during a refurbishment as well as the need to be discrete and professional, to suit the hotels continuing operation. Depending on the size of the hotel, we will meet with you to discuss your requirements and set up a collection schedule to meet your operational requirements.
We can organise a one-off collection or a number of collections over the duration of a refurbishment.
We have over 180 home stores throughout the UK (and a further 550 clothing shops) which together help prevent over 70,000 tonnes of unwanted goods from going to landfill each year from across the UK.
We are specialists at what we do – we have been collecting from hotels for many years.
If you would like to discuss how we can work with you, email us to talk through your requirements.
Address
4th Floor, Greater London House
180 Hampstead Road
London
NW1 4AW
United Kingdom