Amadeo Systems Ltd
Stand: 1614
Long Life
Other
Sustainable
Equipment > Technology
Technology
Information Technology & Software Solutions
Check-in technology
Reservation systems
Self-service technology
Cameras & locks
Other technology
Ground Floor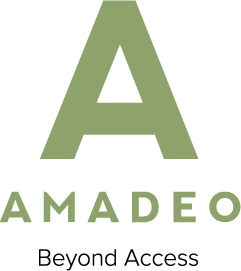 Who are AMADEO?
AMADEO was founded by and is managed by experienced access control industry professionals with a passion for innovation and technology. AMADEO Systems is an inventor and manufacturer of high-end access control and visitor/guest management solutions.

There are AMADEO installations across the globe and we pride ourselves on the quality of our products and the service we deliver to our customers who are at the centre of everything we do. We have been providing state of the art access control solutions to hotels, hospitals, residential properties, and high-security facilities for over a decade.

With the introduction of the first ever operating system for access control – AOS, binary encoded, physical keys – AMADEO FreeFlex, a range of electronic locks and software that integrates seamlessly with a host of applications, AMADEO seeks to reimagine access control and to find new and innovative ways to disrupt the market.
Our Philosophy and Mission
Our Mission: To disrupt the access control market through innovation and technology
Our business philosophy is founded on the following core principles:
It's time to go beyond. It's time to go AMADEO.
Address
20 North Audley Street
London
Westminster
W1K 6WE
United Kingdom